iPod Mate -
Convert DVD/video to iPod and transfer file for iPod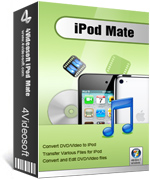 As the comprehensive iPod Mate, it enables you to convert popular DVD movies and common media files to MP4, MOV and M4V with blazing-fast speed and original quality, so you can enjoy the movies anytime you want on iPod, iPhone and iPad. Moreover, you're able to transfer music, movies, photos and more between iPod and computer with ease. If you'd like to share your favorite songs, photos, movies, etc. with your friends who use iOS device, it also can make it for you. iPod Mate enables you to create special ringtone for your iPhone and manage your iPhone ringtone as you like. In addition, you can backup and transfer SMS and contacts for safety.
Besides the professional conversion and transfer function, iPod Mate is equipped with versatile video editing functions, including Effect, Trim, Crop, Merge and Watermark. You can personalize the movies for your iPhone on your own wish. It's very easy to use thanks to the ultra initial interface. It's a all-in-one package tool for iPod users.
Key Functions:
Convert DVD/video to iPod with ZERO quality loss
iPod Mate is capable of converting DVD movies and video files to iPod MP4, MOV and M4V with no quality loss. Also, you can take out the audio files from the source DVD and video and then convert them to MP3, AAC, M4A and more for playback on iPod.
Transfer files between iPod and computer
It's easy to transfer iPod files like music, movies, photos and more to computer with no data loss. In addition, you can import your local songs, movies, photos, etc. to your iPod for a convenient enjoyment.
Transfer files between iOS devices
You can easily share your iPod files with your friends and family who are the iOS device users with this almighty iPod Mate. You can transfer your iPod files to other iPod, iPad and iPhone as well as import files from other iOS device to your iPod.
Create personalized ringtone for iPhone
iPod Mate can help you make special ringtone for your iPhone with popular DVD movies, music and videos. It's easy to get your desired length of the iPhone ringtone and set the fade in/fade out effect as you like.
Transfer and backup SMS and contacts
If you're worried about losing your important SMS and contacts, transferring them to computer is a good choice. Or you can back the SMS and contacts in your device with the program.
Ultrafast speed
Converting DVD movies and video files to iPod should not be a test of patience. With the world-class iPod Mate, you can complete the conversion and transfer process in a short while.
Ease of use
The ultra initial interface will help anyone convert DVD/video to iPod and transfer files for iPod with several simple clicks.
iPod Mate Screenshot: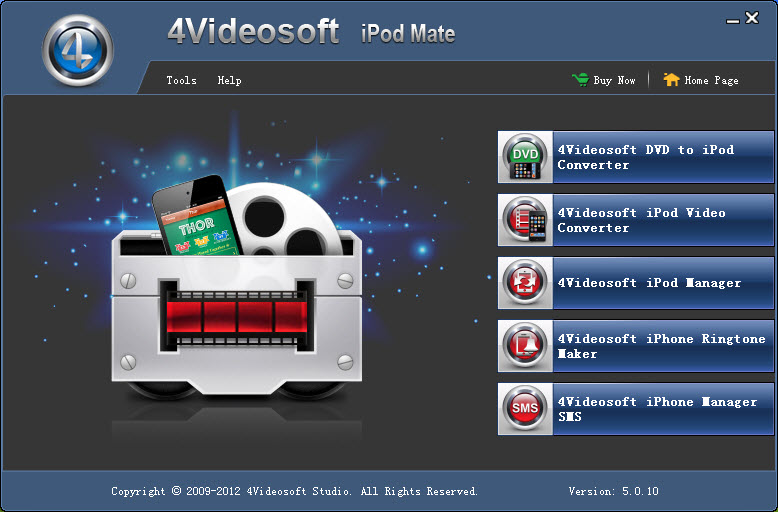 System Requirements
OS Supported: Windows 2000/2003/XP and Windows Vista, Windows 7, Windows 8
Hardware Requirements: 1.2GHz Intel or AMD CPU, or above; 1G RAM or more
Why choose iPod Mate?
All-in-one iPod Mate includes DVD to iPod Converter, iPod Video Converter, iPod Manager, iPhone Ringtone Maker, iPhone Manager SMS.
Studio provides you online support to solve your problem.
Free upgrade if there is any avaliable.
For All Software
Save 20%
to buy any product.
Coupon: VIDEAUT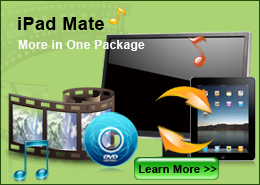 Windows Products
Blu-ray Software
DVD Software
Video Software
Package Software
PDF Software
iPad Transfer
iPhone/iPod Transfer
Mac Products
Mac Blu-ray Software
Mac DVD Software
Mac Video Software
Mac Package Software
Mac PDF Software
Mac iPad Transfer
Mac iPhone/iPod Transfer